Mini Pork Banh Mi
I love banh mi – it's food from my heritage and I wanted to put it on the menu. We decided to make Ms G's banh mi smaller so that diners could fit in other dishes as well. In my eyes, banh mi is up there with the most iconic sandwiches of the world. It's the perfect balance of  richness, acidity, texture, freshness and spice. In short, everything you could ever want in a sandwich.
Serves 8

The Pork 
6 litres (210 fl oz/24 cups) Chinese masterstock (Essentials, page 234)
1.5 kg (3 lb 5 oz) pork belly, rib bones removed, skin on
Pour the masterstock into a stockpot and carefully add the pork belly. Bring to the boil. As soon as it's reached boiling point, turn the heat down and simmer for 3–4 hours or until the pork belly is tender.
Line a roasting tin (large enough to fit the pork belly) with baking paper. Carefully lift the pork belly from the stock, being mindful to keep everything in one piece (not easy to do, since the pork is very soft at this point).
Put the pork in the tin, skin side down. Cover with another piece of baking paper then a baking tray.
Weight the tray with heavy objects such as tins of tomatoes then leave it overnight (unrefrigerated) to press the pork belly.

The Rest 
1 loaf of chà lua (Vietnamese pork loaf)
vegetable oil, for frying
8 small, soft white rolls
Pork liver pâté (Essentials, page 243)
6 salted cucumbers (Essentials, page 241)
Pickled daikon and carrot (see Pickling liquid recipe, Essentials, page 241)
1 bunch coriander (cilantro), leaves only
Sriracha mayonnaise (Essentials, page 240)

Using a meat slicer or a very sharp knife, slice the chà lua as thinly as possible. Set aside. Cut the pork belly into pieces about 1.5 cm (5⁄8 inch) thick and about the same length as the rolls.
Fill a large heavy-based saucepan one-third full with oil and heat to 170°C (325°F) or until a cube of bread dropped into the oil turns golden in 20 seconds. Carefully drop in the pork belly pieces and fry until golden. Remove with a slotted spoon and drain on paper towel.
Cut the white rolls in half. Spread the bases generously with pork liver pâté. Top with a few slices of chà lua, then add the fried pork, followed in order by the salted cucumbers, pickled daikons and carrots, a few coriander leaves, and, finally,
HONG HACK This dish is meant to be fun and to be shared, so make it your own. If you're stuck for time, a side of roasted pork from your favourite Chinese BBQ restaurant will work fine.
Try Dan Hong's Asian Style Trevalli 
Dan Hong's cook book "Mr Hong" is available from Murdoch books.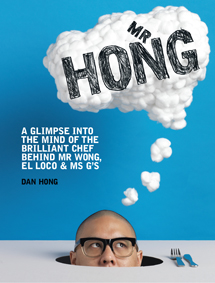 15 TIPS AND TRICKS TO SHOOTING BETTER VIDEO ON YOUR SMARTPHONE
To receive our master guide to shooting video on your smart phone subscribe to food to film today.
Sign Up Food To Film
Contact Us
We would love to hear from you. Please say hello and we will get back to you as soon as we can.
Email: hello@foodtofilm.com
PHONE: 0411 852 441