Fijian-Style Sashimi of Trevally
A dish influenced by one of my best friends, fellow chef, Louis Tikaram. Louis has a Fijian background and he once told me about one of Fiji's national dishes, called kokoda, which incorporates coconut milk into a ceviche mix. This is my take on kokoda (pronounced kokonda), which infuses some of my Vietnamese heritage into the dish. When I asked Louis  what he thought about me doing that, he said: 'Sounds tasty.' And that's what the food at Ms G's is all about: tasty.
Serves 2
Dressing
80 ml (2½ fl oz/1⁄3 cup) nuoc cham (Essentials,
page 244)
55 ml (1¾ fl oz) coconut cream
1 tablespoon ót tuóng (Essentials, page 244)
juice of ½ lime
Whisk all of the ingredients together in a bowl until well combined.
The Rest
200 g (7 oz) piece of sashimi-grade trevally, skinned
and boned
1 small long red chilli, thinly sliced
4 cherry tomatoes, quartered
70 g (2½ oz) young coconut flesh, cut into thin strips
50 g (1¾ oz) salted cucumber (Essentials, page 241)
15 coriander (cilantro) leaves
1 red Asian shallot, thinly sliced
Slice the trevally into thin strips. Transfer the fish to a bowl with the remaining ingredients.Spoon about 100 ml (3½ fl oz) of the dressing over the fish and mix well. Don't worry if there looks like a lot of dressing, it starts to 'cook' the fish as you're eating it, which is how it's meant to be. Serve in bowls and enjoy immediately.
For more Dan Hong recipes
Dan Hong's cook book "Mr Hong" is available from Murdoch books.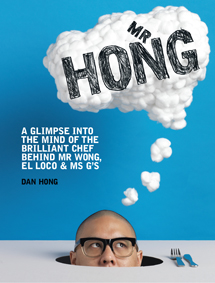 15 TIPS AND TRICKS TO SHOOTING BETTER VIDEO ON YOUR SMARTPHONE
To receive our master guide to shooting video on your smart phone subscribe to food to film today.
Sign Up Food To Film
Contact Us
We would love to hear from you. Please say hello and we will get back to you as soon as we can.
Email: hello@foodtofilm.com
PHONE: 0411 852 441