Super Fly Chef Dan Hong interview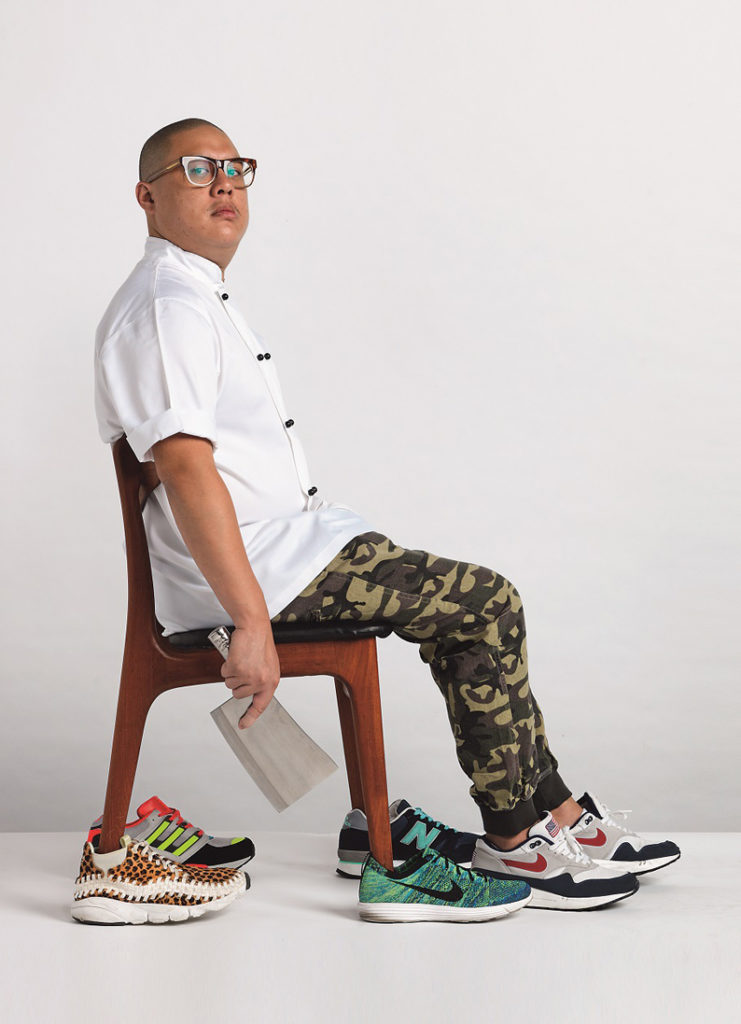 Dan Hong
The city of Sydney adores and glorifies it's diverse and wonderful chefs, but one name keeps rising to the surface…. Dan Hong. In an exclusive interview, editor, Anne Marie Cummins, talks to the chef behind some of the coolest restaurants, Mrs G's, El Loco and Mr Wongs. The chef with the colourful collection of trainers, reveals the future trends in food and what he has learnt from entrepreneur, Justin Hemmes.
Your prawn toasts were the only dish to sell out at the Good Food month's Asia town, I missed out, what's your secret?
Asia town was great but my dish was so popular. We ran out so quickly, everyone took multiple portions of mine at the beginning. I can't help it if my dish is the most popular, but it was fun, a great day and a really good space.
With so many great chefs at one venue, who inspired you most and what dish did you love the most?
I really enjoyed Ramen Ikkyu, chef, Harunobu Inukai was awesome. I thought Chase Kojima from Sokyo did an awesome Okonomiyaki. Obviously David Thompson is the master, and his stir-fry was great with the fried egg. Anything with a fried egg on top is delicious.
Your mum owned and operated restaurants. What inspired you to be a chef, was there a moment when you thought, I want to be a chef ?
There wasn't a moment to be honest, I just didn't know what I wanted to do and my mum suggested I become a chef. I grew up around restaurants, but I never thought of being a chef. I really enjoyed cooking at home and my mum suggested I become a chef. My passion really came when I became an apprentice, learning new things from chefs above me.
Which cooking school did you attend?
The Hotel School at the Intercontinental, which doesn't run a cooking course any more. Usually apprentices go to Tafe once a week and work full time. I was lucky to do school for 6 months full time. I did all my theory first and then went and worked in restaurants. That's how I came to work in so many restaurants.
What inspires you when you are creating a new recipe?
Everywhere, could be going to another restaurant, eating street food overseas, eating on the street in China town, or going to my mum's house for dinner. I'm really inspired by everything I eat.
Am I right in thinking you spend your holidays in Asia looking out for new food experiences?
I go to Asia quite a bit, I go to Indonesia at least once a year, as my wife is Indonesian and we visit her family.  I went to China this year, that was really cool.
You have bridged the gap between playing with food and making it look cool. Is that what you set out to do?
Well no, I just wanted the book to be different. A lot of cookbooks can be the same to be honest. I wanted mine to stand out, not only with the material and the design, but also with the cover as well. So I hope it does stand out.
Yes it does stand out. It ties in well with the sneaker thing you have going on.
Yes it all ties together. I wanted it to be a fun book for people to read, but also to actually try out the recipes. That's why I have those Hong hats, even though I think the recipes are quite simple, they can be made simpler by reading those Hong hats.
What's the weirdest flavour combination in the book?
There's a dish that has pig's ear and tripe, but that's not really a weird combination. There's nothing too weird in the book because, I have tried all these weird combinations at Mrs. G's. And even though I might like them, the general public don't, so they don't make it onto the menu.
So can you tell us what weird flavour combination do you think tastes really great?
I like blue cheese and chocolate together. One time I did a flourless chocolate cake with blue cheese ice cream, I used gorgonzola and I thought it was delicious. But it was a bit too weird.
It's a dream for many chefs to work with Justin Hemmes. What have you learnt from him?
That he knows what diners in Sydney want. He has a midas touch when it comes to knowing what people want and being ahead of the game in terms of restaurants, style, atmosphere and vibe.
So you must know what people want to eat?
I don't know what people want! I'm just lucky that people like my food.
The public has an insatiable appetite for new food, new flavours. What trends do you see in the near future?
I think Middle Eastern and Turkish cuisine are next. They are popular now but the next step is to make an up market restaurant, with a good wine list and great vibe.
What are you craving right now?
A sandwich or a banh mi, (vietnamese pork roll.) See recipe below.
What did Kim and Kanya order when they came to your restaurant?
They had chicken wings, a few dim sum, some pork dumplings, chicken dumplings, pork ribs, fried rice. Kanya came twice, which was pretty cool, I guess he liked the chicken wings!
Hang over cure?
Mc Donald's breakfast.
What do you like to cook at home?
I don't cook at home. My wife cooks at home. But sometimes I cook on the bbq. I like to let the produce speak for itself and cook very simple things. Last time I cooked some wagu rump on the bbq with some nice fat asparagus. I served the steak with wasabi mayonnaise.
Can you reveal any secret foodie locations in Sydney?
Is anything secret anymore? Out in Western Sydney for people who don't go out West. Fairfield, Canley vale and Cabramatta have the most authentic South East Asian food you can eat. I love going to Fairfield for Laotian food. I think Laotian food is an untapped cuisine that people don't really know about. But you gotta love the funk to enjoy Laotian food. It's like Thai food, but with using things like fermented crab.
Biggest mistake?
Is always not remembering to taste as you cook. It's something so simple that can be the difference between a good and a great chef. As chefs, we can often forget this, and it's doesn't matter how beautiful your dish looks, it all comes down to the flavour. It's the reason why people keep coming back to your restaurant.
See below for recipes from Mr Hong.
Dan Hong's cook book "Mr Hong" is available from Murdoch books.
Grilled Corn with Lime and Parmesan
Serves 4–6
Seasoned cream
500 g (1 lb 2 oz) Japanese mayonnaise
500 g (1 lb 2 oz) sour cream
1½ tablespoons ground cumin
3 tablespoons shichimi togarashi
Whisk all of the seasoned cream ingredients together in a bowl until combined. Set aside in the fridge.
6 cobs of corn, each one cut into three pieces
2 limes, halved
1 bunch coriander (cilantro), leaves only
100 g (3½ oz) wedge of parmesan, for grating
Steam or boil the pieces of corn until tender. Put on a hot chargrill pan or barbecue and cook, turning three or four times, until the kernels are a little bit charred. Remove from the grill and stab one end of each piece of corn with a short cocktail skewer that has little handles.
Liberally brush each piece of corn with the seasoned cream and arrange them on a platter.
Squeeze some fresh lime juice over the top, making sure each piece of corn gets some.
Scatter with coriander and then use a microplane to grate a liberal amount of parmesan over the top. Eat.
More of Dan Hong's recipes
Fijian-Style Sashimi of Trevally
Lotus Ice Cream Sundae with Raspberries and Honeycomb
15 TIPS AND TRICKS TO SHOOTING BETTER VIDEO ON YOUR SMARTPHONE
To receive our master guide to shooting video on your smart phone subscribe to food to film today.
Sign Up Food To Film
Contact Us
We would love to hear from you. Please say hello and we will get back to you as soon as we can.
Email: hello@foodtofilm.com
PHONE: 0411 852 441