Lotus Ice Cream Sundae with Raspberries and Honeycomb
Lotus Ice Cream Sundae with Raspberries and Honeycomb
This dish became my signature dessert when I was at Lotus and it had a loyal and devoted following. At the time, everyone in Sydney was trying really hard to do something molecular and Alex Stupak-esque with desserts. While I admired the American chef's inventive creations, I wanted to do something fun and tasty with real texture, and something my customers could relate to.
Serves 6
Chocolate Fudge 
340 g (11¾ oz) caster (superfine) sugar
70 g (2½ oz) liquid glucose
35 g (1¼ oz) cocoa powder
325 g (11½ oz) dark chocolate, cut into small pieces
75 g (2½ oz) unsalted butter
15 g (½ oz) xanthan gum
Fill a large saucepan with 390 ml (13½ fl oz) water.
Add the sugar, glucose, cocoa powder and 1 teaspoon salt and heat over a high heat. Bring to the boil, then add the chocolate and butter. Reduce the heat to a simmer and cook until the chocolate and butter melt. Whisk to combine and then bring back up to the boil. Using a hand-held blender, mix in the xanthan gum, which will thicken the fudge.
Remove from the heat and allow to cool, then transfer the fudge into a covered container and put in the fridge, where it will keep for up to 2 weeks.
Honeycomb 
170 g (5¾ oz) caster (superfine) sugar
1 tablespoon honey
65 g (2¼ oz) liquid glucose
2 teaspoons bicarbonate of soda (baking soda)
Line a small baking tray with baking paper. To make the caramel, add the sugar, honey, liquid glucose and 1½ tablespoons water to a small saucepan and put over a high heat. Resist the urge to stir, just allow the heat to begin to transform the sugar. If crystals start to appear, you can give the saucepan a little swirl, or use a wet pastry brush to brush down the side of the pan.
Once a light caramel is achieved (about 155°C/310°F on a sugar thermometer), quickly
whisk in the bicarbonate of soda, then immediately pour the mixture onto the prepared tray. Leave to cool at room temperature until it hardens. Break the honeycomb into smaller pieces and store in an airtight container. Do not refrigerate, as the sugars will melt and soften the honeycomb.
Raspberry Sauce 
500 g (1 lb 2 oz/4 cups) frozen raspberries
175 g (6 oz) caster (superfine) sugar
Add the raspberries and sugar to a small saucepan and cook over a medium heat, stirring occasionally, for about 20 minutes or until a semi-thick consistency is achieved. You don't want to cook the sauce too long as this will create jam; there should still be a little freshness about it.
To serve 
Vanilla ice cream (recipe, page 194), or a goodquality vanilla bean ice cream will do you just fine
fresh raspberries
salted peanuts
Warm the chocolate fudge in a microwave until hot.
Spoon some raspberry sauce into each of six serving bowls. Add 2 scoops of vanilla ice cream and top with some shards of honeycomb, raspberries and peanuts. Serve the chocolate fudge in a jug on the side.
Dan Hong's cook book "Mr Hong" is available from Murdoch books.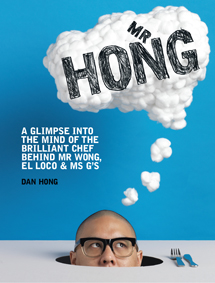 You might like these…
Chamomile and Strawberry Jam Shortbread
Rose and Raspberry Ripple Meringues

Matcha and Mandarin Bundt Cake 
15 TIPS AND TRICKS TO SHOOTING BETTER VIDEO ON YOUR SMARTPHONE
To receive our master guide to shooting video on your smart phone subscribe to food to film today.
Sign Up Food To Film
Contact Us
We would love to hear from you. Please say hello and we will get back to you as soon as we can.
Email: hello@foodtofilm.com
PHONE: 0411 852 441