Let them eat cake
White hot, white now. Indulge in these delightful sweet desserts and treats from
a classic American velvet chocolate cake with raspberries to
a doughnut sandwich with mascarpone ice-cream.
Enjoy and please leave a comment, we would love to hear from you.
Scroll to the end for recipes.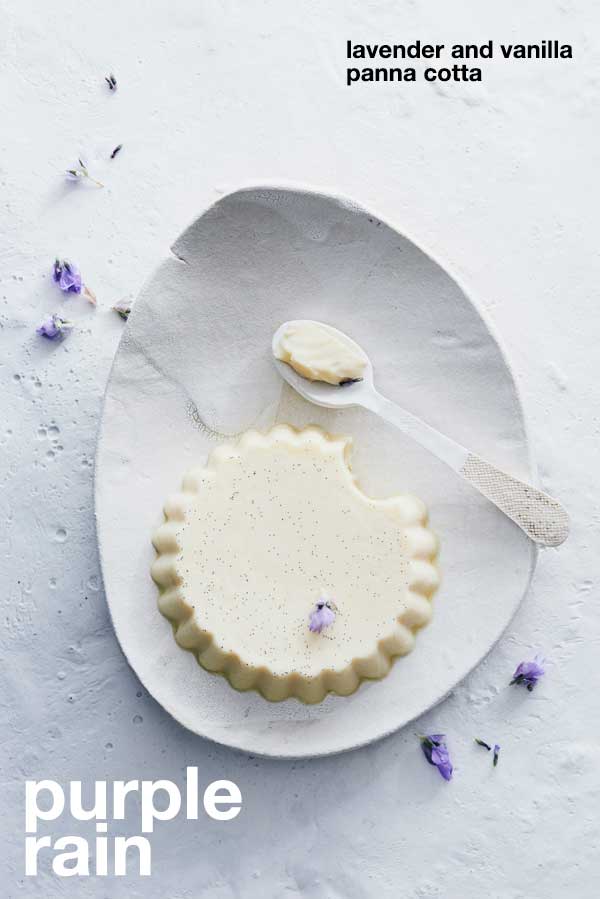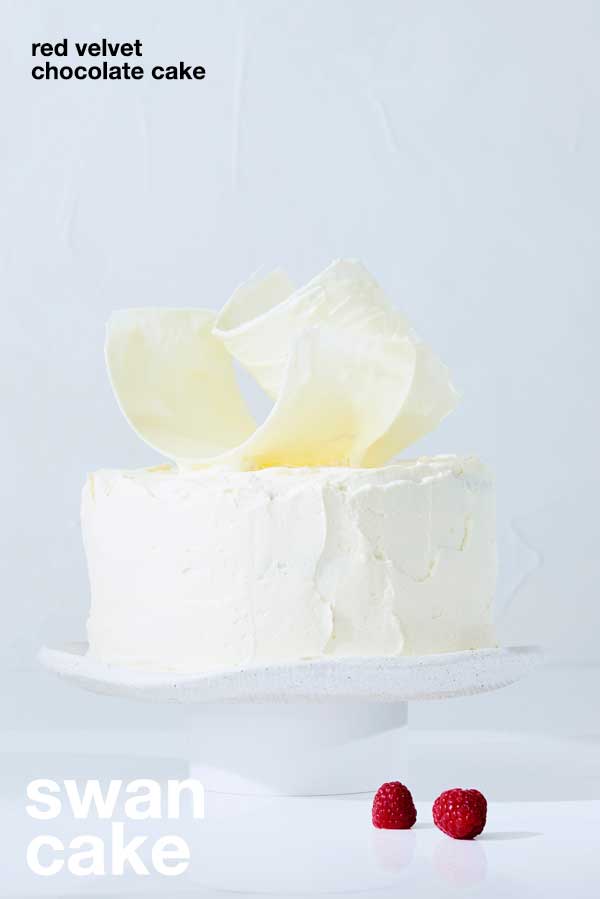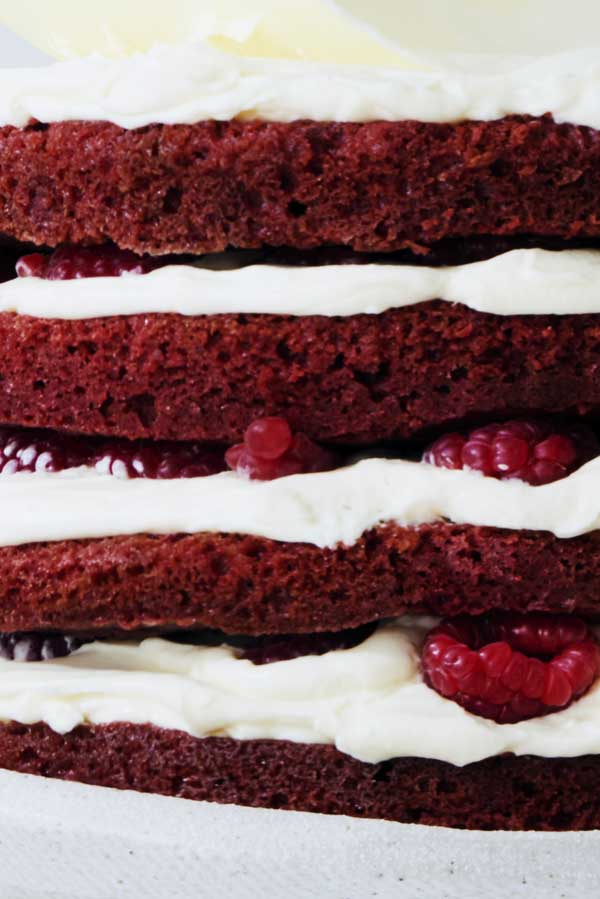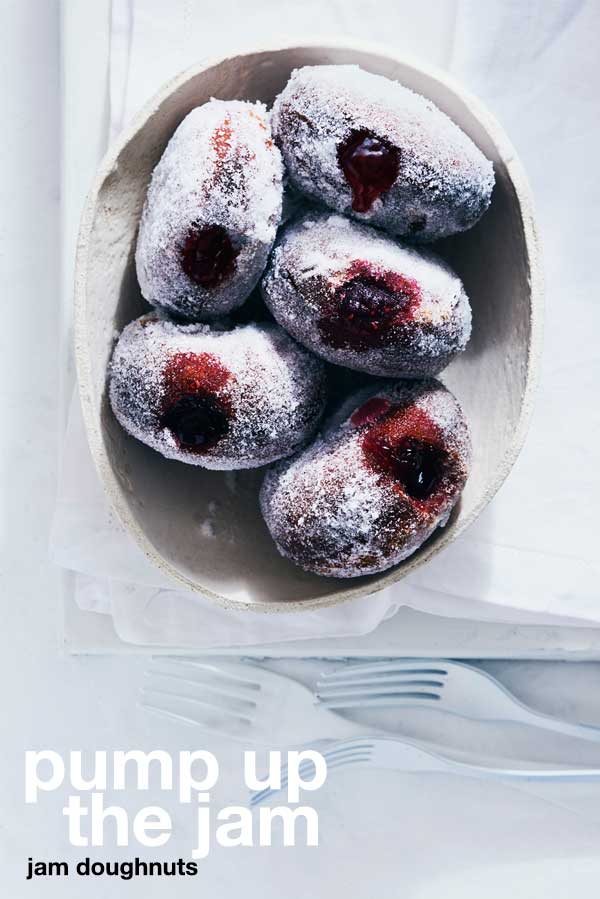 Photography: Noel McLaughlin Recipes: Angela Bresnahan Styling: Anne Marie Cummins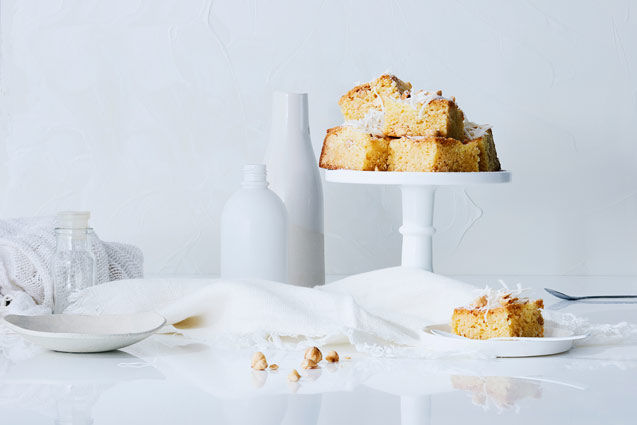 White Chocolate Cheesecake Blondies
Prep & cook time 65 minutes (+ cooling)  Makes/serves 25 squares
Ingredients
125g butter, chopped coarsely
300g white chocolate, chopped coarsely
¾ cup (165g) caster sugar
3 eggs
1 cup (150g) self-raising flour, sifted
½ cup (35g) plain flour
½ cup (40g) desiccated coconut
½ cup (75g) roasted hazelnuts, coarsely chopped
125g cream cheese
1 tablespoon caster sugar extra
2 teaspoons finely grated lemon rind
Method
1 Preheat oven to 180°C (160°C fan-forced). Grease a 23cm-square slab cake pan and line with baking paper, extend paper 2cm over sides.
2 In a medium saucepan, add butter and two-thirds of the chocolate, stirring, over low heat for 3-5 minutes, or until smooth. Cool for 10 minutes.
3 Stir sugar and eggs into chocolate mixture, then flours, remaining chocolate, coconut and nuts. Spread mixture into pan.
4 In a small bowl use an electric mixer to beat cream cheese, extra sugar and rind until smooth. Spoon mixture randomly over the blondie mixture and swirl lightly with the tip of a knife.
5 Bake for about 40 minutes. Cool in pan before cutting into 25 squares. Serve.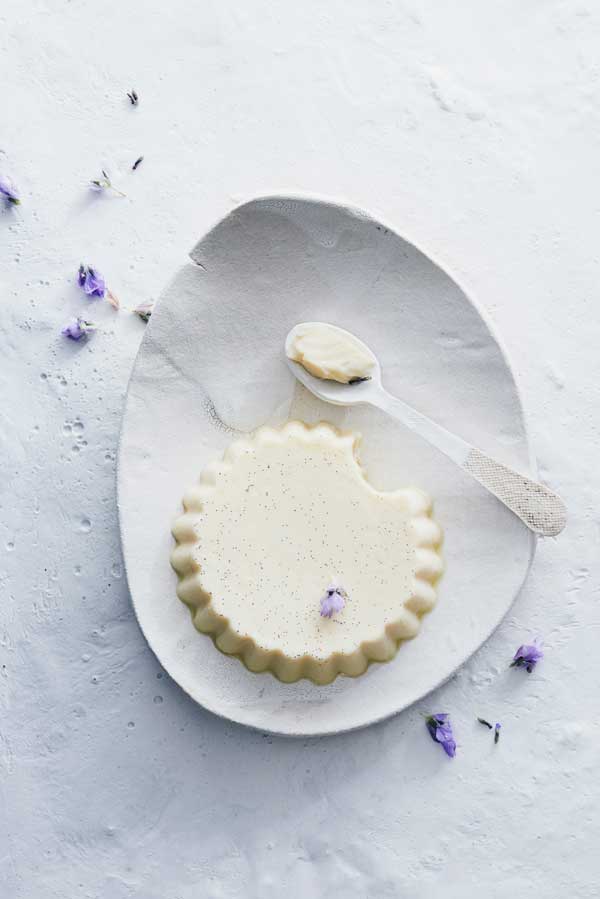 Lavender and Vanilla Panna Cotta
Prep & cook time 20 minutes (+ refrigeration) Makes 6
Ingredients
1½ cups (375ml) thickened cream
1½ cups (375ml) milk
1 vanilla bean, split, seeds scraped
2 teaspoons dried lavender
½ cup (110g) caster sugar
2 tablespoons boiling water
2½ teaspoons powdered gelatine
Method
1 Place cream, milk, vanilla bean and seeds, lavender and sugar in medium saucepan over medium heat. Slowly bring to the boil. Remove from heat and set aside for 10 minutes to let the lavender infuse.
2 Strain mixture, discard bean and lavender.
3 Place boiling water in small bowl. Sprinkle over gelatine. Bring a small saucepan of water to boil. Remove from heat. Sit the bowl of gelatine in the water and stir until dissolved. Cool slightly and stir into the cream mixture.
4 Lightly oil 6 x ½ cup (125ml) fluted tart tins. Place on tray and pour in cram mixture. Refrigerate 4 hours or until set. Turn onto a serving plate and shake to release.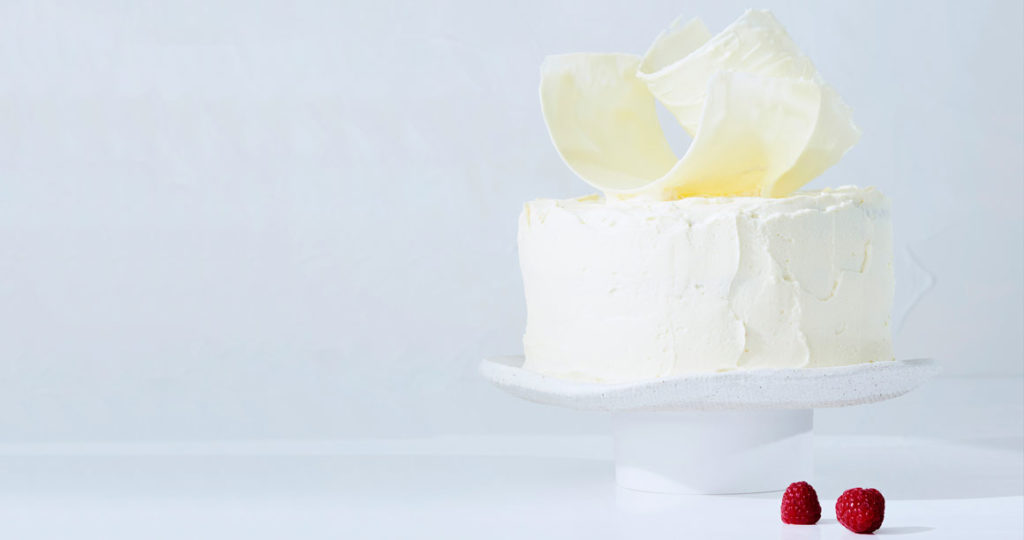 Red Velvet Layer Cake with Fresh Raspberries and Mascarpone Icing
This fabulous cake is the ultimate show stopper cake, Bon apettit Baby!
Makes 1 x 20cm cake Serves 10 (or 8 people with a sweet tooth!).
Ingredients
125g butter, room temperature
1½ cups caster sugar
2 eggs
1½ cups plain flour
2 tablespoons corn flour
2 tablespoons Dutch cocoa powder
1 cup buttermilk
1 tablespoon red gel food colouring
1 teaspoon vanilla extract
1 teaspoon bicarbonate of soda
1 teaspoon white vinegar
1 quantity Mascarpone icing
2 punnets raspberries
White chocolate curls, to decorate
Method
1 Preheat the oven to 180ºC (360ºF). Grease and line the base and sides of 2 x 20cm cake pans.
2 Combine the butter, caster sugar and eggs in a large mixing bowl and beat with an electric mixer until light and fluffy.
3 Sift together the flour, cornflour and Dutch cocoa and set aside.
4 In a jug combine the buttermilk, red colouring and vanilla, whisk well.
5 Add half of the sifted flour mixture and half of the buttermilk mixture to the creamed butter mixture, stir well. Add the remaining flour and buttermilk mixtures and mix through.
6 Combine the bicarbonate of soda and vinegar together and add to the cake mixture, mix well.
7 Divide the mixture evenly between the 2 cake pans and bake for 30 minutes or until cooked when tested.
Remove from the oven and allow to stand in the cake pans for 10 minutes. Turn out onto a cake cooler lined with baking paper and turn the cakes over so they are the right way up. Cool completely.
8 Wrap the cakes in plastic and place in the freezer for 45 minutes until firm. Remove from the freezer and cut each cake in half to form 4 layers.
9 Place the first layer of the cake onto the serving plate and spread over 2/3 cup of the Mascarpone icing. Break open the raspberries so they are flat and arrange evenly over the icing. Repeat with the icing and raspberries for the next 2 layers of cake and top with the final layer of cake. Pack extra icing where needed into the layers of the cake to make it even and straight sided.
Divide the remaining icing in half. Spread half of the icing over the cake to form a crumb coat. Recoat the cake with a fine layer of the remaining icing and decorate with chocolate curls. Store in the refrigerator until ready to serve.
Mascarpone Icing
This beautiful icing is what makes the red velvet layer cake. If you have any left over pipe it into sweet pastry shells, top with a raspberry or blueberry and sprinkle with icing sugar. YUM!
Ingredients
375g cream cheese, at room temperature
1½ cups icing sugar
1 teaspoon vanilla extract
375g mascarpone
450ml thickened cream
Method
1 Combine the cream cheese, icing sugar and vanilla in a bowl and mix with an electric mixer until light and fluffy. Add the mascarpone and beat until smooth. Add the thickened cream and beat until smooth and creamy.
2 Refrigerate for 30 minutes to firm the icing and use as required.
White Chocolate Curls
Makes 3 large curls
Ingredients
150g white chocolate, melted
Method
1 Cut 2 strips of baking paper (20cm x 10cm). Using 1/3 of the melted chocolate brush onto one strip of the paper, repeat with remaining chocolate and paper.
Lay the chocolate-coated paper strips over a bottle or jar and allow to set in the fridge.
Once set, peel away the paper and use as required.
Recipe: Sally Courtney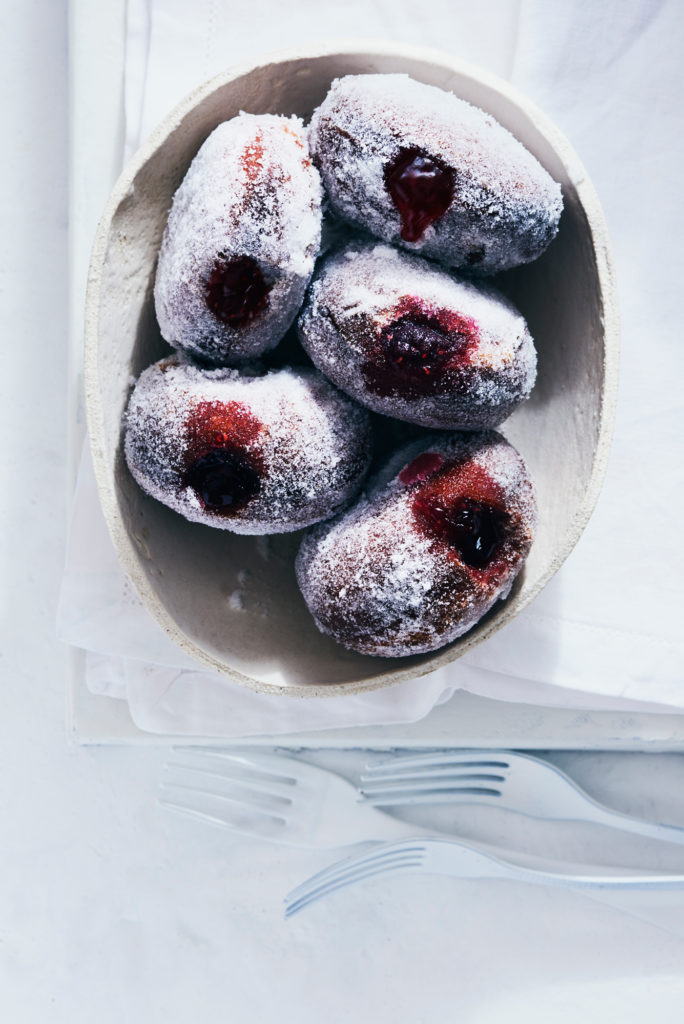 Jam Doughnuts
Prep & cook time 60 minutes (+ proving) Makes 15
Ingredients
7g yeast sachet
¾ cup (180ml) lukewarm milk
2 cups (300g) plain flour
½ cup (75g) plain cake flour
1/3 cup (75g) caster sugar, plus extra to dust
2 egg yolks, lightly beaten
50g butter, chopped, room temperature
Vegetable oil to deep fry
½ cup (160g) raspberry/strawberry jam
Method
1 Combine yeast and milk in a jug and set aside in a warm, draught-free place for 10 minutes or until mixture bubbles.
2 Sift flours and sugar into a bowl of an electric mixer fitted with a dough hook. Make a well in the centre, add milk mixture, egg yolks and butter then knead for 3 minutes or until smooth and sticky. Cover and set aside in a warm, draught-free place for 2 hours or until doubled in size.
3 Turn dough onto a lightly floured work surface and roll into a 2.5cm thick rectangle. Using a 6cm pastry cutter, cut out 15 rounds. Transfer to a tray, cover with a clean teas towel and set aside in a warm, draught-free place for a further 30 minutes or until slightly risen.
4 Fill a large saucepan or deep-fryer half full with oil and heat over medium heat to 160c (or until a cube of bread turn golden in 20 seconds). Working in batches, gently lower dough into oil and fry for 2 minutes each side or until golden and cooked through. Remove with a slotted spoon and drain on paper towel. Cool slightly
5 Using the tip of a small sharp knife, pierce a hole in the side of each doughnut. Place jam in a piping bag fitted with .5cm plain nozzle and fill doughnuts. Coat in extra sugar to serve.
6 Split doughnuts and place a scoop of mascarpone ice cream and sandwich together.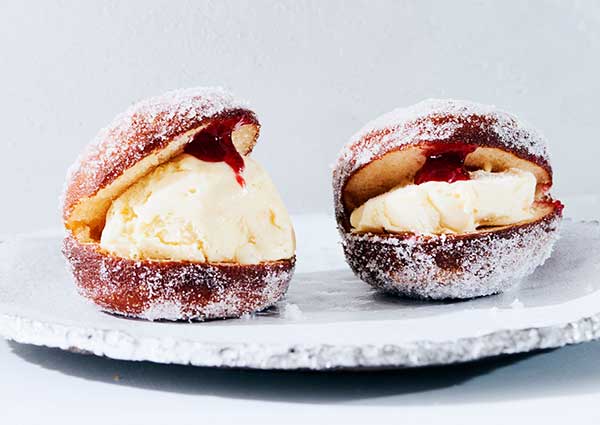 Mascarpone Ice Cream
Prep & cook time 45 minutes (+ churning & freezing) Serves 8
Ingredients
1 cup (250ml) milk
1 cup (250ml) thicken cream
½ cup (110g) caster sugar
2 teaspoons vanilla bean paste
5 egg yolks
¼ cup (90g) honey
250g mascarpone
1 tablespoon lemon juice
Method
1 Combine milk, cream and half the sugar in a medium saucepan on medium heat and bring just to the boil.
2 Beat remaining sugar, paste, yolks and honey in medium bowl until pale and creamy. Gradually pour milk mixture over yolk mixture, whisking constantly until well combined. Return mixture to saucepan. Cook, stirring over low heat, about 12-15 minutes or until mixture coats the back of a spoon. Remove from heat. Cool for 5 minutes. Whisk in mascarpone and lemon juice until smooth. Strain mixture through a fine sieve.
3 Place bowl over an ice water bath for 15 minutes, stirring custard occasionally until cooled.
4 Pour mixture into an ice cream machine and churn to manufactures instructions (about 30 minutes). Spoon mixture into freezer container. Freeze until firm.
5 Let stand in refrigerator for 20 minutes before serving.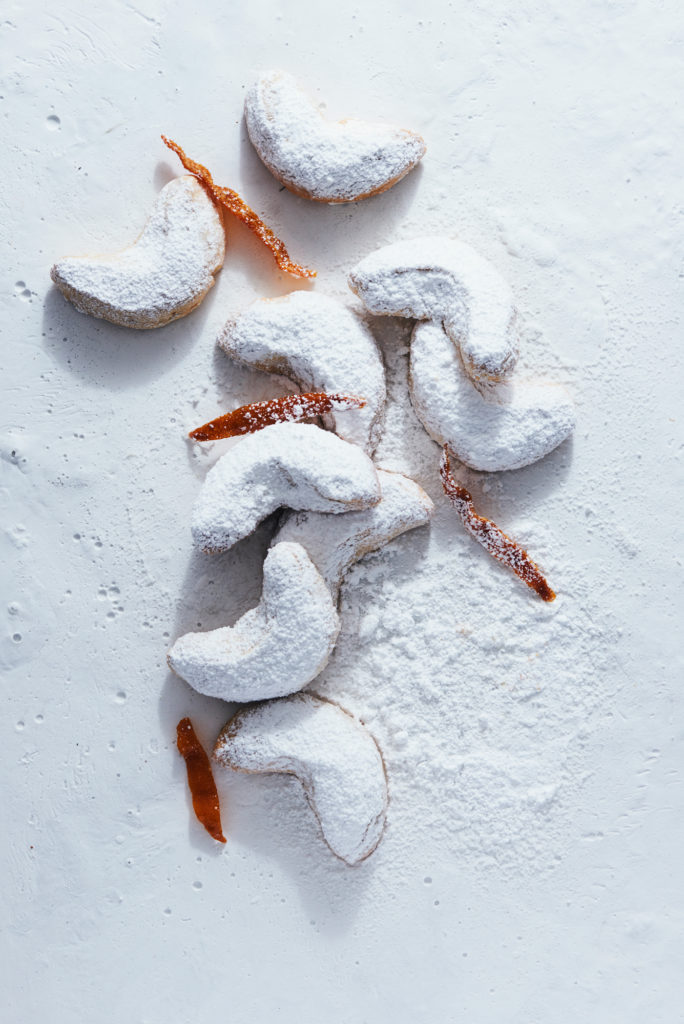 Mandarin Cardamom Spiced Almond Crescents with Candied Rind
Prep & cook time 50 minutes  Makes about 40
Ingredients
250g butter, room temperature
½ cup (110g) caster sugar
2 teaspoons finely grated mandarin rind
1 egg, room temperature
1 tablespoon brandy
¾ cup (120g) blanched almonds, toasted, finely chopped
2½ cups (375g) plain flour
1 teaspoon baking powder
2 teaspoons ground cardamom
Icing sugar to dust
Method
1 Beat butter, sugar and rind in bowl of small electric mixer until light and fluffy. Beat in egg and brandy. Transfer mixture to large bowl. Stir in nuts, sifted flours, baking powder and spice in two batches until well combined. Gather together and wrap in plastic wrap. Refrigerate 1 hour.
2 Preheat the oven to 160°C (315°F/Gas 2–3). Line two large oven trays with baking paper.
3 Shape 1 tablespoons of the mixture into crescents, using lightly floured hands. Place on the prepared baking trays. Bake for 12–15 minutes, or until pale golden. Cool on the trays for 5 minutes, then transfer to a wire rack to cool completely. While still warm, dust with the sifted icing sugar. Just before serving, dredge heavily again with the icing sugar. When completely cool, store in an airtight container.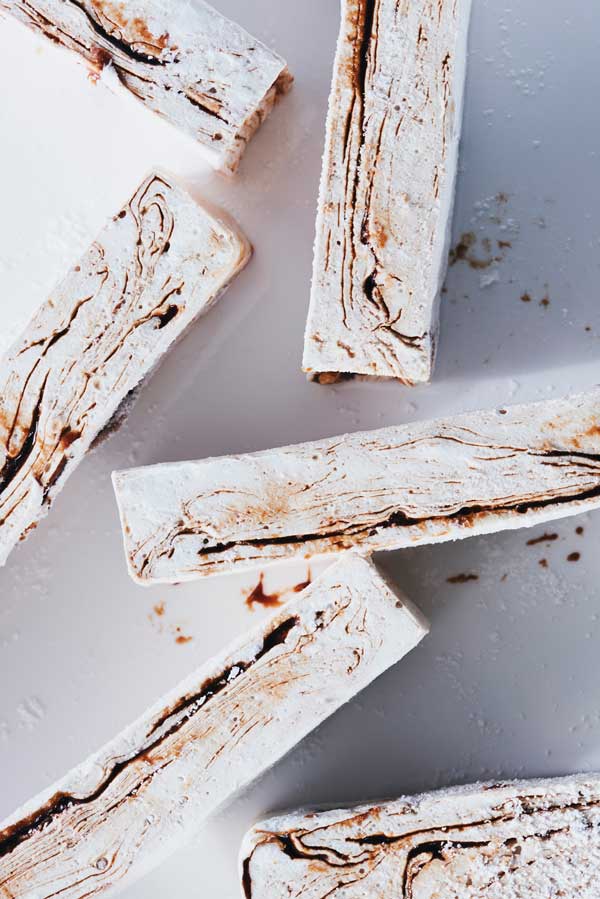 Chocolate Swirl Marshmallow
Prep & cook time 30 minutes (+ refrigeration) Makes 15
Ingredients
½ cup (125ml) warm water
2 tablespoons powdered gelatine
½ cup (150g) dark chocolate and vino cotto caramel
1 teaspoon sea salt flakes
1½ cups (330g) caster (superfine) sugar
⅔ cup (230g) liquid glucose
½ cup (125ml) water, extra
1 cup (160g) icing (confectioner's) sugar mixture, sifted
Method
1 Lightly grease a 20cm x 30cm slice tin lined with baking paper. Place the warm water in an electric mixer, sprinkle over the gelatine and stir to combine. Set aside.
2 Combine caramel and salt and mix to combine. Set aside.
3 Place the caster sugar, glucose and extra water in a medium saucepan over low heat and cook, stirring, until the sugar is dissolved. Increase heat to high and bring to the boil.
4 Cook, without stirring, for 6–7 minutes or until the temperature reaches 115°C (239°F) on a sugar (candy) thermometer. With the mixer on high speed, gradually add the hot syrup to the gelatine mixture, in a thin steady stream, and beat for 3 minutes or until thick and glossy.
5 Working quickly, gently fold through the caramel. Carefully spoon the mixture into the tin. Using a piece of greased baking paper, carefully smooth the marshmallow into an even layer.
6 Refrigerate for 1–2 hours or until set. Lift the marshmallow onto a board. Dust a large knife with a little of the icing sugar mixture and cut into 6cm squares. To serve, dust the marshmallows with the remaining icing sugar mixture and package in paper bags.
Makes 15.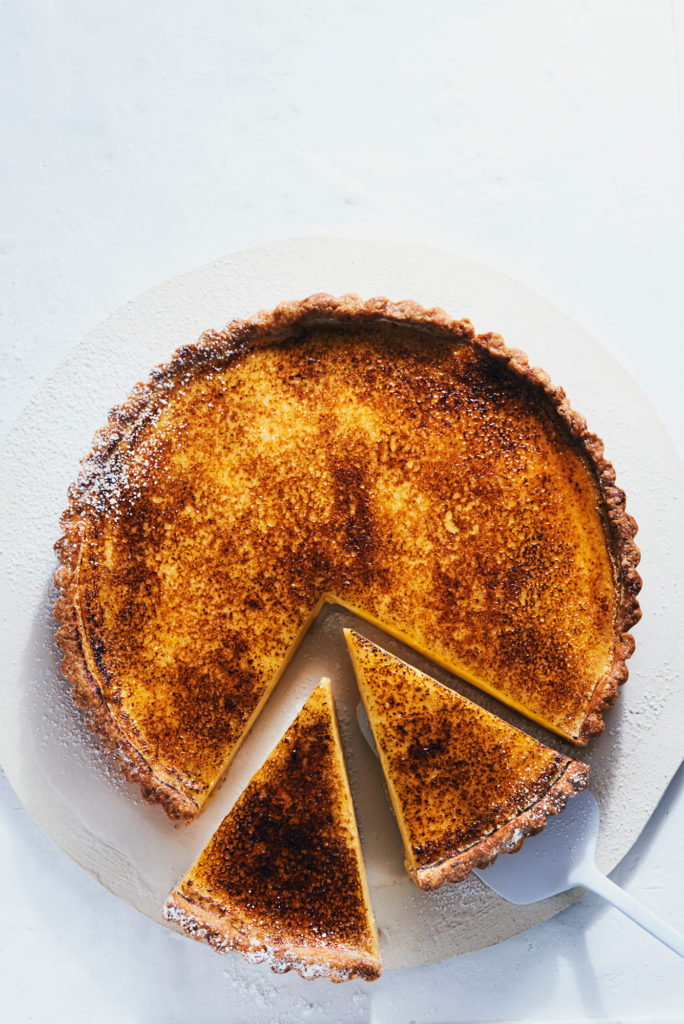 White Chocolate Crème Brulee Tart
Prep & cook time 70 minutes (+ chilling & cooling)  Serves 8
Ingredients
1 cup (150g) plain flour
½ cup (40g) toasted flaked almonds
1 tablespoon caster sugar
¼ cup (45g) finely chopped naked ginger
60g butter, chopped
1 egg
4 egg yolks
2 tablespoons caster sugar, extra
½ cup (125ml) cream
½ cup (125ml) milk
1 teaspoon vanilla bean, split and seeds scraped
200g white chocolate, chopped
2-3 tablespoons icing sugar, extra
Method
1 Combine flour, nuts, sugar, ginger and butter in a food processor and process just until mixture resembles breadcrumbs. Add the egg and process briefly until mixture begins to form lumps. Press into the base of a 23cm round fluted tart pan with a removable base and chill for 30 minutes. Prick well with a fork and then bake in a moderate oven 180°C for 20 minutes or until lightly golden around the edges. Reduce the oven to 160°C.
2 Beat the egg yolks and extra 2 tablespoons sugar until pale and creamy.
3 Combine the cream, milk and vanilla in a small saucepan and heat to a simmer. Remove from the heat, add the chocolate and stir until smooth. Slowly add the chocolate mixture to the egg yolks, stirring until combined. Pour into the pastry case.
4 Bake for 40-50 minutes or until just set. Cool in the pan on a wire rack before chilling for at least 1 hour.
5 Sift the top of the tart with icing sugar, and then use a cook's torch to melt and caramelize the sugar to form a toffee crust. Serve immediately.
Photography: Noel McLaughlin Recipes: Angela Bresnahan Styling: Anne Marie Cummins
15 TIPS AND TRICKS TO SHOOTING BETTER VIDEO ON YOUR SMARTPHONE
To receive our master guide to shooting video on your smart phone subscribe to food to film today.
Sign Up Food To Film
Contact Us
We would love to hear from you. Please say hello and we will get back to you as soon as we can.
Email: hello@foodtofilm.com
PHONE: 0411 852 441